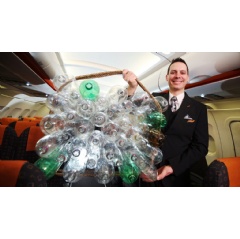 easyJet wins sustainability award for recycled uniforms
easyJet has celebrated winning the 'Sustainability Award' for its new Pilot and Cabin Crew uniform
The uniform is produced using fabric made from 100% recycled plastic bottles
With 45 bottles in each uniform, this will prevent 2,700,000 plastic bottles from ending up in landfill or in oceans over five years
easyJet's new Pilot and Cabin crew uniform, which is produced from 100% recycled plastic bottles has won the 'Sustainability Award' at the 2021 Professional Clothing Industry Association Worldwide Awards.
The award, which recognises innovative individuals and organisations breaking boundaries for sustainability in the professional clothing industry, was accepted alongside partners Tailored Image, a Northern Ireland based professional clothing specialist which manufacture the innovative uniforms.
The new fabric, adapted to the airline's current style, is created using high-tech material made from around 45 recycled plastic bottles per uniform. The introduction of the new crew uniform is part of easyJet's commitment to mitigate waste, increase re-use of materials and search for innovative change beyond carbon reduction initiatives.
Cabin crew and pilots were issued with their new uniforms earlier this year, following months of research and development. Beyond the new fabric, plastic has also been replaced in all clothing-related packaging in favour of recyclable and biodegradable materials: for example, replacing plastic collar strays with recyclable cardboard ones, plastic shirt clips with metal shirt clips, non-recyclable white coated card with recyclable cardboard card and polypropylene outer shirt covers with biodegradable shirt covers.  
Tina Milton, Director of Cabin Services at easyJet, said: "It is fantastic to see our new sustainable uniforms being celebrated. Sustainability is extremely important to us at easyJet and we continue to work every day to identify and implement ways in which we can reduce our carbon footprint across all areas of the business".
Speaking of the success, Tailored Image's Managing Director, Bernard Birt, commented: "Our success at this awards ceremony is an achievement we are very proud of. Sustainability matters to us, it matters to our customers and together we are making a difference to our environment in a way that does not compromise either the aesthetics of our uniforms or the streamlined processes via which they are ordered and delivered. The recent easyJet contract is a testament to this and is indicative of our capabilities to manage even the most high-profile contracts. 
"We're delighted to have been recognised by our industry in such a positive way, and I must pay tribute to our fantastic team across even a single department in this business who go above and beyond every day to make success our reality."
For further information, please contact the easyJet Press Office on 01582 525252, log onto www.easyJet.com or follow @easyJet_Press
About easyJet:
easyJet is Europe's leading airline offering a unique and winning combination of the best route network connecting Europe's primary airports, with great value fares and friendly service.
easyJet flies on more of Europe's most popular routes than any other airline and carried more than 96 million passengers in 2019 – more than 16 million travelling for business. The airline has over 300 aircraft on nearly 1000 routes to more than 150 airports across 35 countries. Over 300 million Europeans live within one hour's drive of an easyJet airport.
easyJet aims to be a good corporate citizen, employing people on local contracts in eight countries across Europe in full compliance with national laws and recognising their trade unions. The airline supports several local charities and has a corporate partnership with UNICEF which has raised over £14m for the most vulnerable children since it was established in 2012.
The airline takes sustainability seriously and is committed to reaching net-zero emissions flying by 2050. Together with its partners Airbus and Wright Electric, easyJet is working to accelerate the development of zero-emission aircraft technology. In the meantime, the airline is offsetting the carbon emissions from the fuel used for all its flights, at no additional cost to its customers, and only supports projects that are certified by Gold Standard or the Verified Carbon Standard, internationally recognised certification schemes. In addition, easyJet continues to renew its fleet, operate efficiently, and aims to fill most of its seats. Through these activities, the airline has cut its carbon emissions per passenger kilometre efficiency by a third since 2000 and is committed to reducing this further.
Innovation is in easyJet's DNA – since launching over 25 years ago, easyJet changed the way people fly to the present day where the airline leads the industry in digital, web, engineering and operational innovations to make travel more easy and affordable for its passengers.
The airline was named as Britain's Most Admired Company of 2020 in the transport sector, retaining the leading position for a second year running. Britain's Most Admired Companies study is the longest-running annual survey of corporate reputation in the UK.
This news content was configured by WebWire editorial staff. Linking is permitted.
News Release Distribution and Press Release Distribution Services Provided by WebWire.